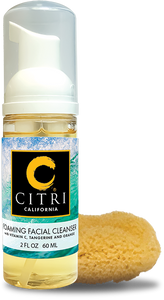 Formulated for oily and combination skin, acne and inflammatory skin conditions.

To use:
With clean hands, apply a generous amount to hands or a sea sponge (wet the sponge first).
Apply in a circular motion to face, neck and décolletage.
Rinse off with warm water using hands or sea sponge and pat dry with a clean towel.
Included sea sponge has a light texture that is great for lightly exfoliating while cleansing.
Ingredients: Neroli Hydrosol, Chamomile Tea, Vegetable Glycerin, Coco Glucocide, Germall, Vitamin C, Tangerine essential oil, Orange essential oil
All Citri products are made fresh and shipped on Mondays.